DELHI BELLY BLUES
Breezing along the Hippie Trail in 1975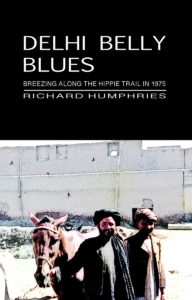 During the 1960s and 70s, large numbers of mostly young people journeyed along the overland hippie trail that stretched from European cities to Afghanistan, India, Nepal and beyond. I was one and traveled from Britain to Kolkata (Calcutta then) using a mix of hitchhiking and public transport. Just a few years later, the Soviet invasion of Afghanistan and the Iranian Revolution put paid to this famous overland route.
I wrote this book's narrative portion largely from memory but also had a few fading photos, letters sent home and personal scribbles to use as memory aids. To expand the travel sequences, I've added context I thought relevant and interesting. In the future, I may put this short volume—the book-size print version runs 90 pages—in online stores for a nominal fee, but for now it's completely free for you to download and read.
My hope—and to be honest, the very reason I'm doing this—is that you'll find this book intriguing enough to consider my other publications, especially my latest, more substantial book: Slow Boats and Petrified Goats: Africa Overland Travel Memories. CLICK on the title for more information about my Africa book.
Below you'll find clickable download links for Delhi Belly Blues: for both a Sample Chapter and for the Full Book, in both generic EPUB and PDF formats. If you have any thoughts or questions, as well as if you'd like to be alerted when I publish anything new, please click HERE or on the CONTACT menu at the top of this page.
EPUB version

PDF version